HAPPY B'DAY WAPA & FRIENDS
WAPA is celebrating its 4 years and we want to blow out this 4th candle with all of you!
THE CONCEPT
What time is it? IT'S PARTY TIME!
And all for the benefit of # SCHOOLS4WAPA in favor of building a kindergarten in Uganda for the children of war victims. All the more reason to meet on October 6, right?
ON THE PROGRAMME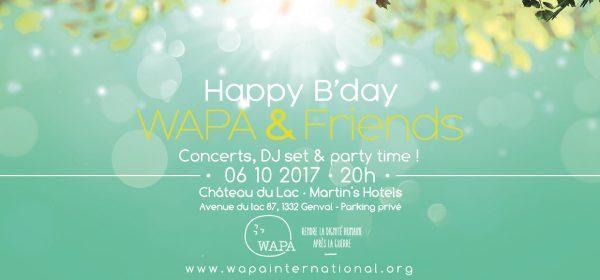 – Price: 38 € / person to be paid on BE73 3631 2334 7260 (communication: place concert WAPA) before 4/10/2017.
– Reservation via https://wapa-2017.events.idloom.com/WAPA or by email at marie@wapainternational.org. Please note that the reservation will only be confirmed after receipt of payment.
For any additional questions, do not hesitate to contact us on 0472 28 34 34.
See you soon!
We rejoice!
WAPA